Watch here the 'Jornal da EPTV'´s report and the interviews with BRAINN researchers Letícia Rittner, Mariana Bento and Li Li Min.
May 09, 2017     Jornal da EPTV
A technology developed in UNICAMP's laboratories uses artificial intelligence to help neurologists diagnose problems in patients' brains. In addition to accelerating the analysis of exam images, the technique allows doctors to obtain greater precision in the diagnosis.
Click the icon below to watch the report: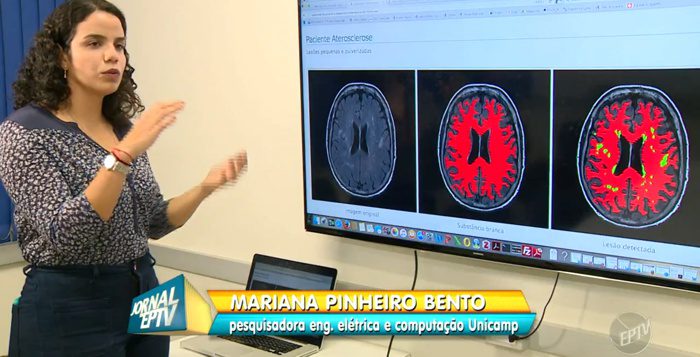 "The lesions in the brain are very pulverized regions", said researcher Mariana Pinheiro Bento, from the School of Electrical and Computer Engineering (FEEC) at UNICAMP. "They are so small that they become really difficult for one to study unaided".
"The software highlights regions in the brain that show problems; these might have gone unnoticed by the doctor during his visual analysis", explains reseacher Letícia Rittner.
"Simply by pressing a button, the system can get a lot of parameters that help the doctor to make a decision", explains Li Li Min.